In English
At first welcome to our site! This site is about my dogs Rasmus, Ruuti & Gava. Owner is Tiia Hämäläinen, birth at year -91 and living in Finland.
PICTURES
BH,TK1,TK2, FIN OB CH
Nordwart Upa "Rasmus"
Nova Scotia Duck Tolling Retriever, male
Date of birth:
17 of November, 2003
Breeder:
Nordwart
Birgitta Kajander, Finland
Owner:
Tiia Hämäläinen, Espoo, Finland
Health results:
Eyes healthy,hips A/A (healthy) ja elbows 0/0 (healthy),PRA: B-carrier
Height:
49 cm
Weight:
20 kg
Hobbies:
Agility, obedience,tracking and working dog obedience.
Results:
Agility:
experience level: 3 (highest), and one SERT
Obedience:
Obedience degree: TK1,TK2(class 1 and 2) and FIN OB CH
, Best in 14-17 year-old youngs in obedience highest class(4) in years 2007 and again 2008.
Character test:
points +157p(good)
Rasmus in koiranet.fi breedingdatabase
Rasmus is a very nice dog. He was the only one puppy who had a big white marking in his coat: in the paws, brisket, skull and tail. In home Rasmus is peacefull. Rasmus has ever been agressive to people or dogs.
Rasmus is easy at home, he likes sleeping in couch or bed. In out he manage run hours with his fauvorite toys: frisbee or something else. And agility, obedience and tracking exercises he likes a lot. Now Rasmus is spending his pensiondays and living with my mum and dad.
BH TK2
Serica's Bamir "Ruuti"
Name:
Serica's Bamir
Breed
Bordercollie
Date of birth:
2.3.08
Sex:
male
Color:
black & white
Breeder:
Satu Behm, Finland, Savonlinna
Owner:
Tiia Hämäläinen, Finland, Espoo
Ruuti in koiranet.fi breedingdatabase
Dad:
Fin WT Ch Nord & Dk & S & Fin OT Ch Int & Fin & Est Ch EstW-03 JK3 BH AD Pikkupaimenen Ace Ventura "Elke"
Mother:
Fin Ch,Est Ch,Rus Ch EstW-02 Yazina's Mercedes "Sinna"
Ruuti is energetic dog. He loves eating, running and working, like bordercollies also. He is crazy about balls. Ruuti is training obedience (class 3/4), agility (class 2/3) and he have trained also human searching witch he likes a lot, but can't competite because gun shot's. (in english Ruuti means gunpower, speed like that)
Ruuti have teached me many things, living with Ruuti is not so easy than with Rasmus. You can't spoil and be so nice to him. In obedience our problem is that Ruuti likes to use voice in working. Agility have been so different than with Rasmus and it's so many thing that affects on course and many there is timing problems to handler.
Ravlundha Lady "Gava"
From Sweden
Breed:
border collie
Date of birth:
25.3.2014
Color:
Black & White, short
Sex:
female
Silmät:
Health at puppy; CEA clear/carrier (Father CEA clear)
▪
Father:
GK VALLH PR Thrud
, CEA normal, HD A
▪
Mother:
GK VALLH PR Ravlundha Hedvig
, HD A
▪
Breeder:
Elisabeth Falk Zetterholm, Pyk Ulf, Pyk Emelie, Kivik, Sweden
▪
Owners:
Maria Kallio (Kennel Mithrandir) ja Tiia Hämäläinen, Espoo
▪
Gava's Pedigree
Owner:
My name is Tiia Hämäläinen, year -91 birth and I'm from Finland. I have been love with animals since I was young. When we haven't own dog, me and my friend were allways walking neihborhoods dogs. I have taken care of dogs and teach them, not only my dogs and I like to teach people. Now are training in AST (Agility Sport Team) agility, obedience, sometimes on my own searching and tracking. Dogs belongs in my life, I can't live without them, there are more positive sides than negative.
In memoriam Vili 19.7.1999- 7.12.2010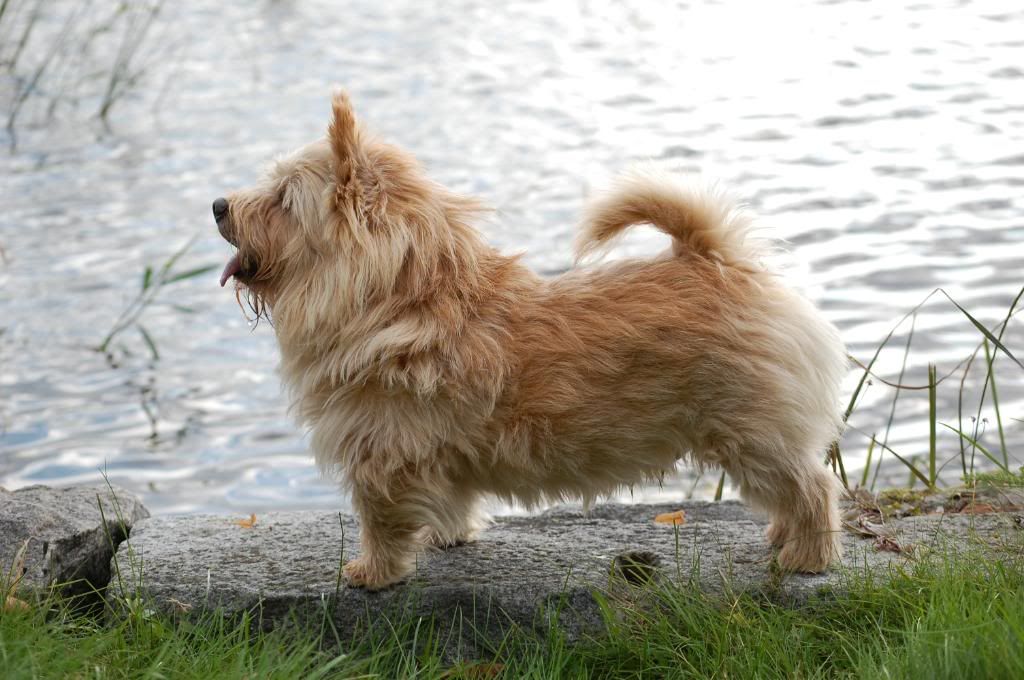 Name:
FIN Ch Retain Cara-Van "Vili"
Breed
Norwichterrier
Sex:
male
Color:
Pink
Breeder:
Dorrit & Claes Lindquist, Finland, Espoo
Owner:
Tiia Hämäläinen, Finland, Espoo
Dad:
Pathwork Defrost
Mother:
Jaeva Merry Maid
Vili was like terriers also: stubborn, know he's place in our crowd and brisk. He didn't fear anything, Vili can bluster to Great Dane, but he was not angry. Vili allways has been friendly to all dogs and people. Vili is my "mother's dog", he didn't want to go out with me, if mum is home.
When Vili was under 3-years old we went in dog shows. And when Vili was 3-year old he came Finnish Show Champion. Once he came in group competition (BIS), was best of breed, best of opposite sex.
Kuvien kopioiminen kielletty! /
© Tiia Hämäläinen 2014 / tiia.hamalainen(at)iki.fi / Webdesign by Tollerwich.com